What Yantram 3d Architectural Rendering Company Do​
3D Interior Visualization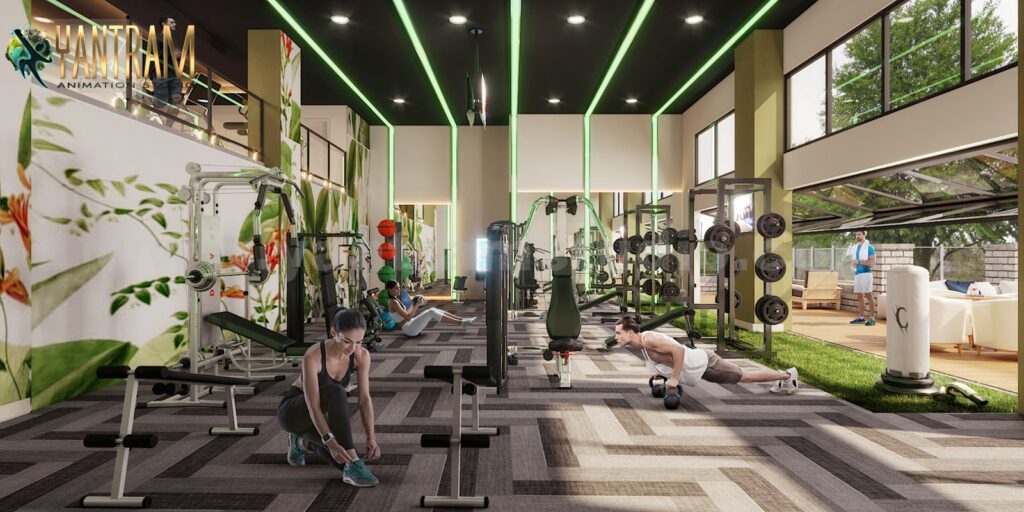 Sydney Fitness Hub: Cutting-edge Commercial Gym – Immersive 3D Interior Visualization
Welcome to the Sydney Fitness Hub – a state-of-the-art commercial gym that redefines fitness experiences in the heart of Sydney, Australia.
Step into a world where innovation meets motivation. With our meticulous attention to detail, we've crafted an environment that inspires, energizes, and drives results.
interior rendering services
Discover the power of 3D interior design and transform your home into a haven of style and functionality. With our exceptional team of interior rendering services, we can bring your design dreams to life with unparalleled realism and precision.
Welcome to our Yantram 3D Interior Design Studio in Sydney Australia.
Welcome to Yantram 3d Architectural Rendering Studio, your gateway to unlocking the extraordinary world of visual storytelling and design innovation in the heart of Sydney, Australia.
At Yantram, we specialize in crafting immersive and captivating 3D interior visualizations that transcend traditional boundaries. Our studio is a hub of creativity, technology, and passion, dedicated to transforming your interior design concepts into breathtaking visual narratives.
Step into our studio 3D Interior Rendering ​studio, and you'll find a collaborative environment where imagination takes center stage. We understand that every interior space has a unique story to tell, and we're here to help you tell it in the most visually striking way possible.
From residential to commercial spaces, our expertise spans a diverse range of projects. Whether it's a luxurious penthouse, a cozy café, a vibrant retail store, or even an expansive commercial gym, our team has the skill to translate your ideas into awe-inspiring 3D Interior Rendering ​studio
Using cutting-edge technology and industry-leading software, we meticulously craft every detail of your design – from the play of light and shadow to the texture of fabrics and materials. Our visualizations not only showcase the physical attributes of a space but also capture the intangible essence that makes it unique.
3d architectural walkthrough
Imagine being able to walk through your architectural projects before they're even built – to experience the space, the ambiance, and the design in astonishing detail. With our cutting-edge technology and artistic expertise, we turn this imagination into reality.
Our 3D Architectural Virtual Tours are more than just walkthroughs; they're journeys of discovery. Whether you're an architect, a real estate developer, or a designer, our virtual tours offer an unparalleled opportunity to showcase your vision like never before.
As you step into one of our virtual tours, you'll find yourself transported into a meticulously crafted digital environment. Every detail, from the architectural elements to the textures of materials, is brought to life with astonishing accuracy. Walk through grand entrances, explore expansive interiors, and experience the interplay of light and shadow in real-time.