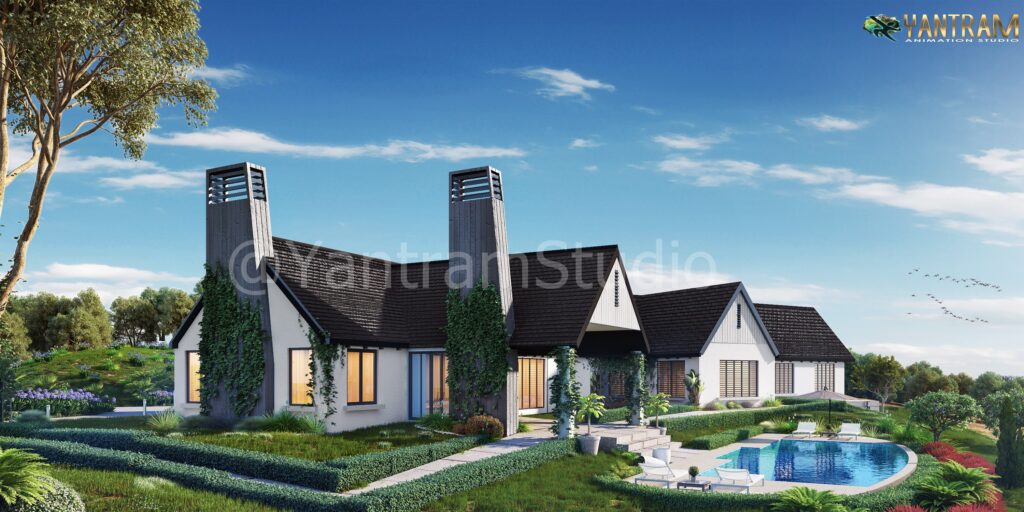 Spring Hill, Tennessee is a picturesque location that offers the perfect blend of urban amenities and natural beauty. If you're looking for a modern modular home with an inviting swimming pool, look no further than this stunning 3D exterior architectural visualization.
The visualization showcases a beautiful modular home with sleek, clean lines, and contemporary design. The use of neutral colors and natural materials such as wood and stone, give the home an inviting and warm feel. The large glass windows bring in ample natural light, making the interior feel bright and airy.
The highlight of this visualization is the inviting swimming pool that seamlessly blends in with the home's design. The pool is surrounded by a wooden deck, providing ample space for outdoor entertainment and relaxation. The use of landscaping enhances the natural beauty of the location and adds to the overall ambiance of the property.
The 3D exterior architectural visualization is an excellent tool for visualizing the design and layout of a property before it's built. It allows homeowners, architects, and designers to explore different design possibilities and make informed decisions about the final product. The visualization offers a realistic representation of the property, providing an accurate view of how the finished project will look.
In conclusion, if you're looking for a modern, inviting, and stylish modular home with an inviting swimming pool in Spring Hill, Tennessee, this 3D exterior architectural visualization is a must-see. It's an excellent representation of how a well-designed property can enhance the natural beauty of its surroundings and offer the perfect space for indoor and outdoor living.