What Yantram 3d Architectural Visualization Studio Do​
Project 144: Beautiful Modern 3D Home Virtual Floor Plan
Client: 724. Craig
Location: London – UK
3d floor plan
Beautiful Modern 3D Home Virtual 3d-floor design, Stunning Large 3D Floor Plan Design with Large Car Parking Area, Large Kitchen with Island and white wooden furniture, Impressive Closet Room with Particular Different Area, Living Room with White Beautiful Sofa and Decoration, Master Bedroom with Beautiful Sofa, Coffee Table and White Furniture, Office Area For Work, Awesome Dinning Area, Large Bathroom with White Furniture, Bathtub, and Large Walk In Shower, Open Wooden Flooring For Free Space, Wooden Staircase for Above Floor, Understandable and Unique Design Developed by Yantram Architectural 3d floor Studio, London – UK
3d-floor plan, 3d-floor design, 3d virtual floor Plan design, 3d home floor plan design, virtual floor Plan, 3d-floor design, floor plan designer, 3d-floor plan design, architectural design studio, architectural animation studio, architectural studio, 3d animation studio, architectural modeling firm, 3d-floor design, architectural visualization studio, architectural and design services, 3d-floor design, architectural animation companies, architectural rendering companies, beautiful, modern, 3d, home, floor plan, architectural, design, studio, stunning, large, parking area, kitchen, island, wooden furniture, Impressive, Closet Room, Living Room, Sofa, White, Master Bedroom, Coffee Table, Office, Dinning Area, Awesome, Bathroom, Bathtub, Walk In Shower, Wooden Flooring, Staircase, Unique.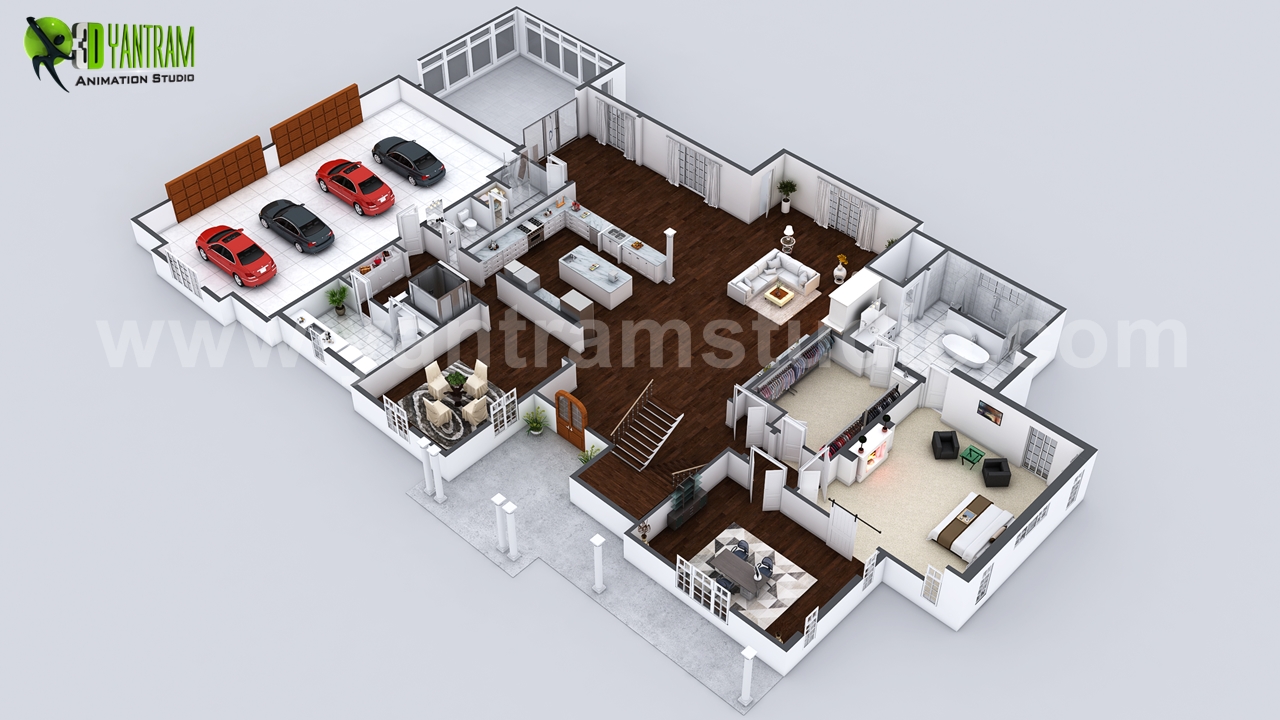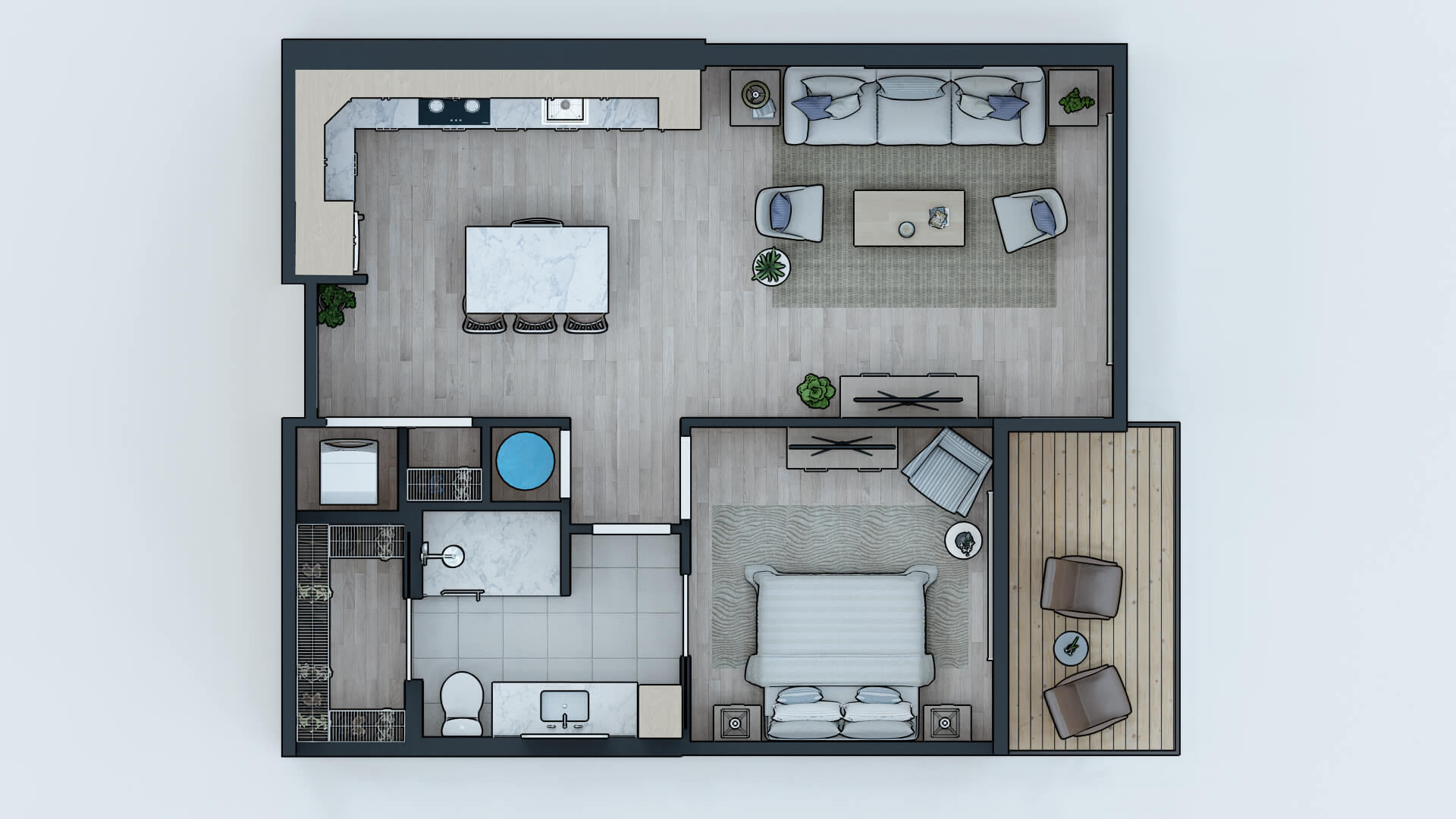 3d floor plan design services
Welcome to the epitome of contemporary luxury living, crafted by Yantram Architectural Design Studio in the heart of London, UK. This stunning 3D floor unveils a harmonious blend of elegance, functionality, and innovation, setting the stage for an exceptional modern lifestyle.
Entrance and Foyer: As you step through the grand entrance, you are greeted by a foyer that exudes sophistication. The sleek, minimalistic design, adorned with artistic lighting fixtures, creates an immediate sense of style and warmth.
Open-Concept Living Area: The main living space seamlessly integrates the living, dining, and kitchen areas, fostering a sense of openness and connectivity. Expansive floor-to-ceiling windows flood the space with natural light, offering panoramic views of the surrounding landscape. Plush furnishings and tasteful decor create an inviting atmosphere for relaxation and entertainment.
State-of-the-Art Kitchen: The kitchen is a chef's dream, featuring top-of-the-line appliances and a spacious island that doubles as a breakfast bar. The clean lines and premium materials reflect a commitment to both form and function, making cooking a delight in this culinary haven.
Private Retreats: The virtual floor plan reveals private quarters designed for ultimate comfort. The master suite is a sanctuary of tranquility, boasting a luxurious bedroom, a spa-inspired ensuite bathroom, and a generously sized walk-in closet. Additional bedrooms are thoughtfully arranged to provide privacy while maintaining a cohesive design theme.
Entertainment Hub: For entertainment enthusiasts, the home offers a dedicated entertainment hub with a state-of-the-art home theater system, gaming zone, and a stylish lounge area. This space is designed for both intimate family gatherings and larger social events.
Outdoor Oasis: The architectural design seamlessly extends to the outdoor spaces, featuring a landscaped garden, a stylish patio, and perhaps even a refreshing pool. These areas are meticulously designed to provide a serene escape, perfect for both relaxation and entertaining guests.
Smart Home Integration: Yantram Architectural Design Studio has incorporated cutting-edge smart home technology throughout the property. From automated lighting and climate control to advanced security systems, residents can effortlessly control every aspect of their homes with the touch of a button.
In conclusion, this beautiful modern home virtual floor plan by Yantram Architectural Design Studio is a testament to their commitment to pushing the boundaries of architectural innovation. It harmonizes aesthetic appeal with functional design, offering a glimpse into the future of luxurious and sophisticated living in the heart of London, UK.
3D walkthrough studio
Step into a world of opulence with Luxuries Hotel and Resort 2023. Our immersive 3D walkthrough design company takes you on a journey through architectural marvels and natural beauty. Experience the grandeur of our entrance, the tranquility of our backside views, and the stylish interiors designed for comfort and aesthetics.