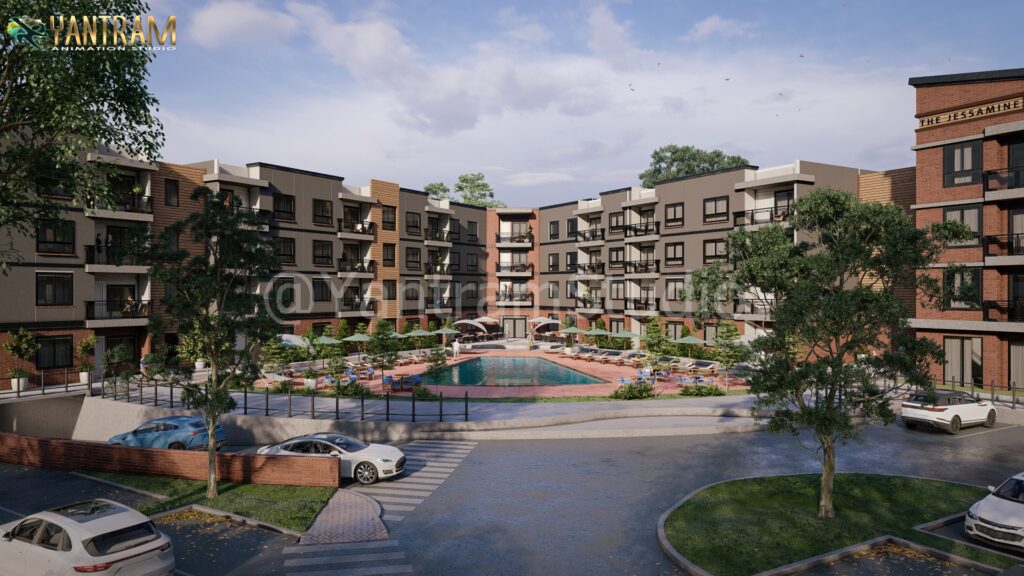 When it comes to designing your dream poolside home in a residential area, exterior architectural visualization is a crucial component. A well-designed exterior can enhance the overall aesthetic appeal and functionality of your property, as well as increase its value.To begin with, it's important to consider the style and architecture of your home. The exterior design should complement the existing features of your home and blend seamlessly with the surrounding environment. This can be achieved through the use of appropriate materials, colors, and textures.
When it comes to poolside homes, the pool area is often the focal point of the exterior design. A well-designed pool area can provide a relaxing and enjoyable atmosphere for both you and your guests. This can be achieved through the use of features such as waterfalls, rock formations, and lighting. Another important aspect to consider is the landscaping surrounding your pool area. This can include features such as trees, shrubs, and flowers that can provide privacy and shade while enhancing the overall aesthetic appeal of your property.
In terms of materials, it's important to choose high-quality and durable materials that can withstand the elements and provide a long-lasting and low-maintenance exterior. This can include materials such as natural stone, concrete, and wood.In addition to the design and materials, the layout and functionality of your poolside home exterior should also be carefully considered. This can include features such as seating areas, outdoor kitchens, and entertainment spaces that can provide a comfortable and enjoyable outdoor living experience.
Overall, a well-designed exterior architectural visualization can help you create the perfect poolside home in your residential area. By considering factors such as style, materials, landscaping, and functionality, you can create a stunning and functional outdoor living space that enhances the overall value and appeal of your property.