The 3D landscape design in London, Manchester, Leeds, Edinburgh, Glasgow, Belfast, Bristol, Liverpool, York, Newcastle Upon Tyne, Birmingham, Brighton, Cardiff, Cambridge, Oxford, Bath, Inverness showcases their exceptional creativity, technical expertise, and commitment to creating remarkable spaces for communities. With its harmonious blend of nature, recreational zones, interactive features, and sustainable design elements, this park is set to become a cherished destination for residents and visitors alike. The visionary collaboration between Yantram Studio and their clients has resulted in a park that truly reflects the spirit and essence of the community it serves.
Welcome to the blog post that takes you on an exciting journey through the breathtaking 3D landscape design of Trendy Community Park, brought to life by the talented team at Yantram Architectural 3D LANDSCAPE DESIGN Services in London, UK. This visionary project blends creativity, functionality, and sustainable elements to create a vibrant and inviting space for the community. Join us as we explore the key features and design elements that make this park truly remarkable.
Architectural Visualization Studio
Yantram Architectural Visualization design Studio prioritized sustainability in the design of Trendy Community Park. Through careful selection of materials, water-efficient landscaping, and energy-saving technologies, the park minimizes its environmental footprint. The integration of renewable energy sources, such as solar panels, further contributes to the park's sustainable design.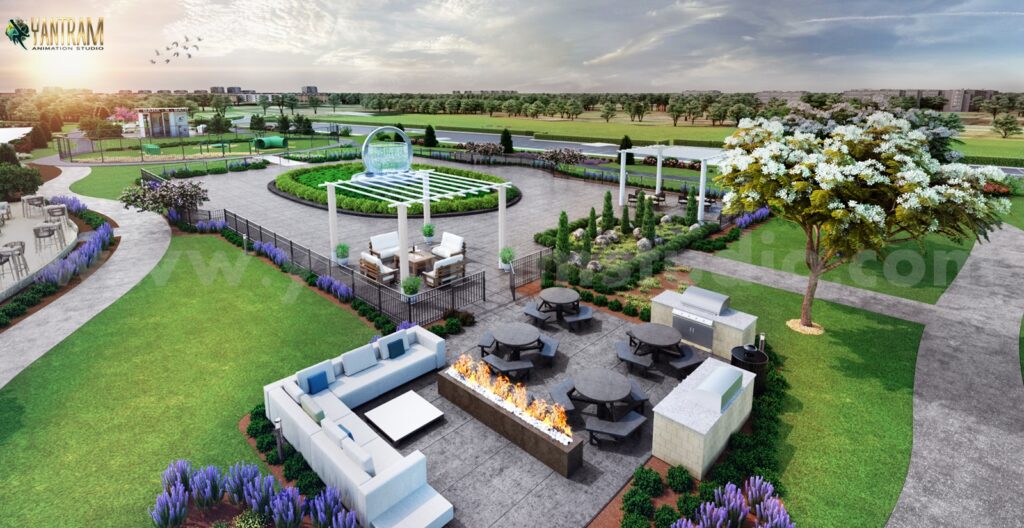 architectural 3d walkthrough
A 3D architectural walkthrough is a digital representation of a building or space that allows viewers to explore and experience it as if they were physically present. It utilizes 3D computer graphics, animation, and visual effects to create a realistic and immersive virtual tour.