What Yantram 3d Architectural Rendering Company Do​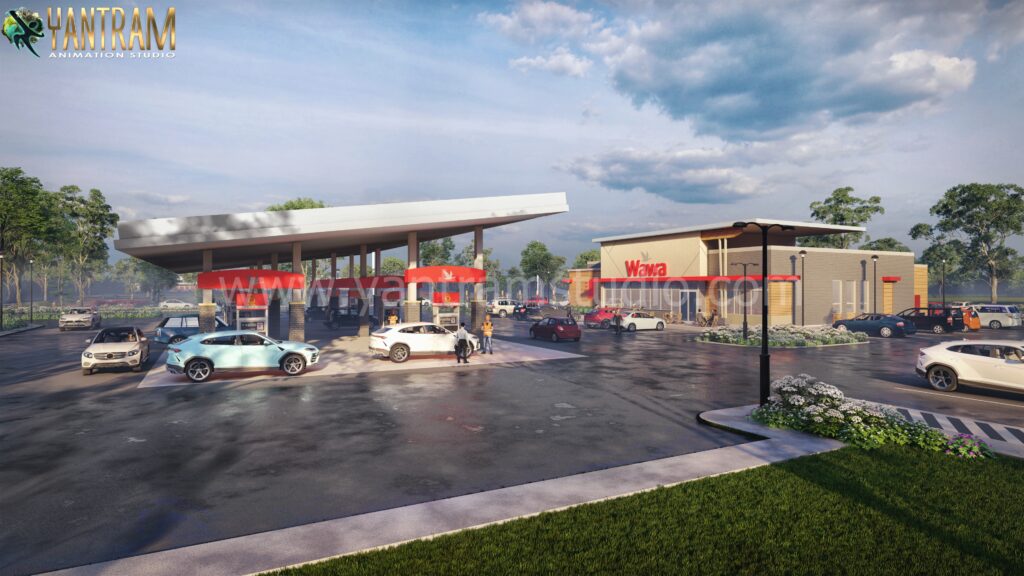 3D Exterior Rendering Services can create extraordinary 3D Exterior Renders that can convey the project better than explaining it verbally. Here 3D Exterior Rendering of an Innovative Gas-station in Orlando, Florida, is presented in sterling quality 3D Render. 3D Architectural Design Studio has done excellent work in providing relief to clients' needs. Using the latest software and excellent, this project of 3D Exterior has been completed in the client's given timeframe.
3D Rendering Services is widely used for preventing any miscalculations before constructing any building, and for illustration purposes, i.e., for better understanding. 3D Exterior Renders describes the driveway and the convenience store in the picture. The 3D Rendering quality is completely advanced and clear; this can help close potential deals faster. The view from the top provides the surrounding view and the main road. 3D Exterior Rendering Services has always served with excellence just like this project in Orlando, Florida and everything is made possible by 3D Architectural Design Studio.
Step into a world of immersive experiences with our Virtual Reality Studio's exceptional 3D walkthroughs. Explore spaces like never before, where every detail comes to life. Our cutting-edge technology transports you into a virtual realm, making your vision tangible. Elevate your projects with the power of virtual reality – a seamless blend of innovation and creativity. Redefine the way you perceive spaces with our 3D walkthroughs. Welcome to the future of visualization!