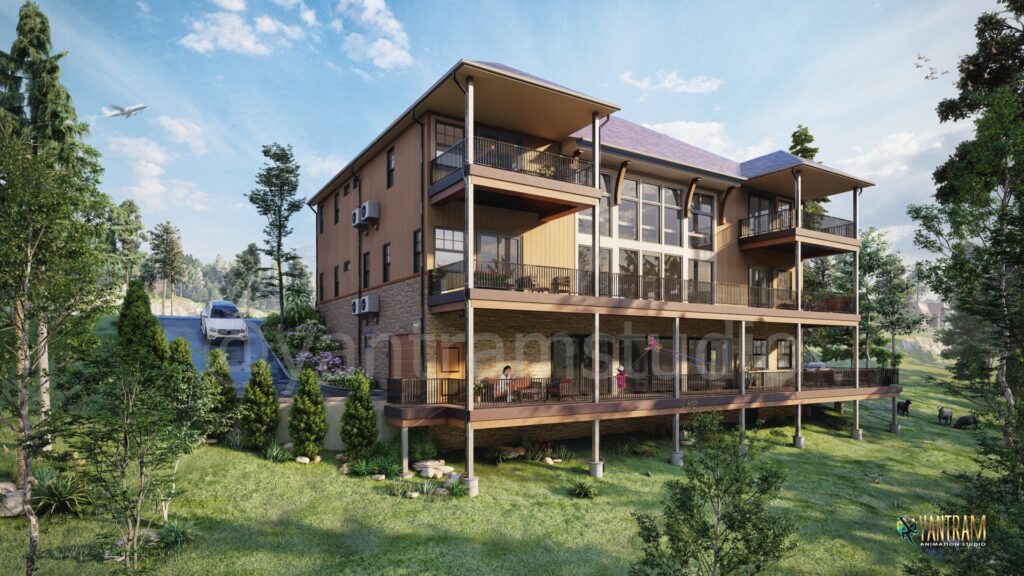 🏞️ Serenity Unveiled: 3D Architectural Visualization of Hill Villa Back Side in Sydney, Australia 🏞️
Journey with us to the captivating landscapes of Sydney, Australia, as Yantram Architectural Visualization Studio presents an exquisite 3D architectural visualization of the Hill Villa's backside. Nestled within the natural beauty of this iconic city, our rendering offers a glimpse into a harmonious blend of modern design and serene surroundings.
Serenity Unveiled: 3D Architectural Visualization of Hill Villa Back Side" is a project created by Yantram Architectural Visualization Studio located in Sydney, Australia. This project focuses on showcasing a 3D visualization of the back side of a hillside villa. The term "Serenity Unveiled" suggests that the project aims to reveal the peaceful and tranquil aspect of the villa's surroundings.
In architectural visualization, 3D technology is used to create realistic digital representations of buildings and spaces that have not yet been constructed. This allows architects, designers, and clients to better understand how a project will look and feel in its intended environment. The "Hill Villa Back Side" aspect of the project implies that the visualization is centered around the rear view of a villa located on a hill.
Yantram Architectural Visualization Studio is likely a creative agency that specializes in creating visual content related to architectural projects. They utilize advanced software and techniques to bring architectural designs to life through realistic 3D renderings. Given that my knowledge is based on information available up until September 2021, I don't have specific details about the "Serenity Unveiled" project itself, as it might have been created after that date.
architectural 3d walkthrough