What Yantram 3d Architectural Rendering Company Do​
Project 5: Unique Bar Rendering CGI
Client: 505. David
Location: Manchester, UK

Interior rendering offers a very close-to-reality view of how the interior of a bar will look after the texturing and furniture is added to the spaces. This will help the clients to have a better idea of the property that they are investing in. The customer will also have a visualization of what interiors can do if he buys the property.

Since this interior rendering is done using CGI you can create multiple interiors for the same property to suit the choice of diverse buyers. Our Firm Interior Designer Artist is an expert in all types of Interior Design like Home, Hotel, Resort, Malls, and Offices. architectural animation services

#Ideas #Rustic #Modern #Sports #Cocktail #Beer #Pub #Outdoor #Wine #Club #Vintage #Smoothie #Mexican #Beach #Unique #Contemporary #Cafe #Luxury #Wet #Rooftop #Night Club #Creative #Pool #Open #Retro #Inspiration #Exterior #Amazing #Terrace #CGI #Animation #Rendering #Visuals#architectural animation services
3D interior design studio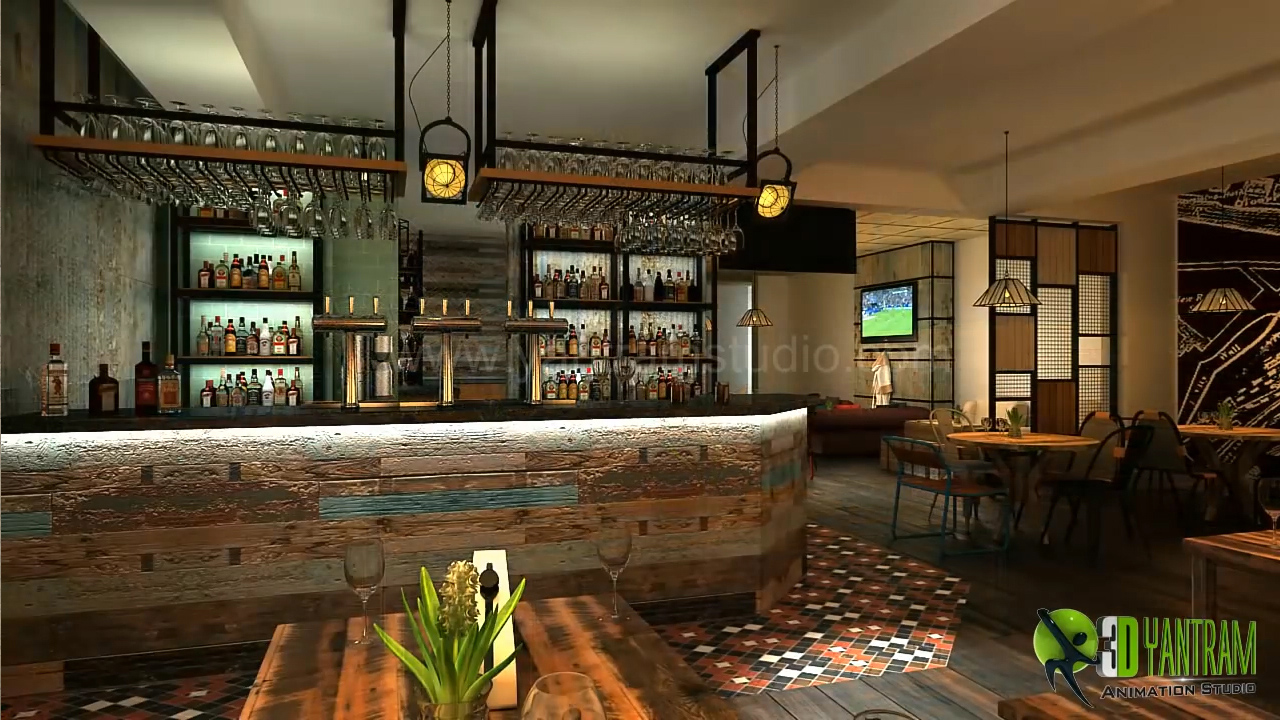 Certainly! It sounds like you're interested in commercial bar interior rendering design created by Yantram Architectural Animation Services Studio in the UK all big cities like London, Manchester, Leeds, Edinburgh, Glasgow, Belfast, Bristol, Liverpool, York, Newcastle Upon Tyne, Birmingham, Brighton, Cardiff, Cambridge, Oxford, Bath, Inverness Commercial interior rendering services are often utilized to visually communicate and showcase the design and ambiance of a space before it is constructed. Here's an overview of what such a service might entail:
Interior Visualizations: Detailed 3D renderings of the bar's interior design, showcasing elements such as seating arrangements, lighting, bar counter, decor, and overall aesthetics. These visualizations help clients and stakeholders visualize the final look of the space.
Material and Lighting Representation: Highlighting the materials used in the interior design, such as flooring, wall textures, furniture, and lighting fixtures. This provides a realistic representation of how different materials interact with light within the space.
Atmosphere and Mood: Creating visualizations that convey the desired atmosphere and mood of the bar. For example, the rendering might showcase a cozy, intimate setting or a lively and energetic ambiance, depending on the design concept.
Virtual Walkthroughs: Interactive 3D models or videos that allow viewers to virtually "walk through" the bar, experiencing the design from various angles. This can provide a more immersive understanding of the spatial layout.
Color Schemes: Visualization of different color schemes and their impact on the overall aesthetic of the bar. This helps in decision-making regarding the color palette for walls, furniture, and other elements.
Custom Features: Highlight any unique or custom features in the bar's design, such as a distinctive bar counter, innovative lighting installations, or thematic decor elements.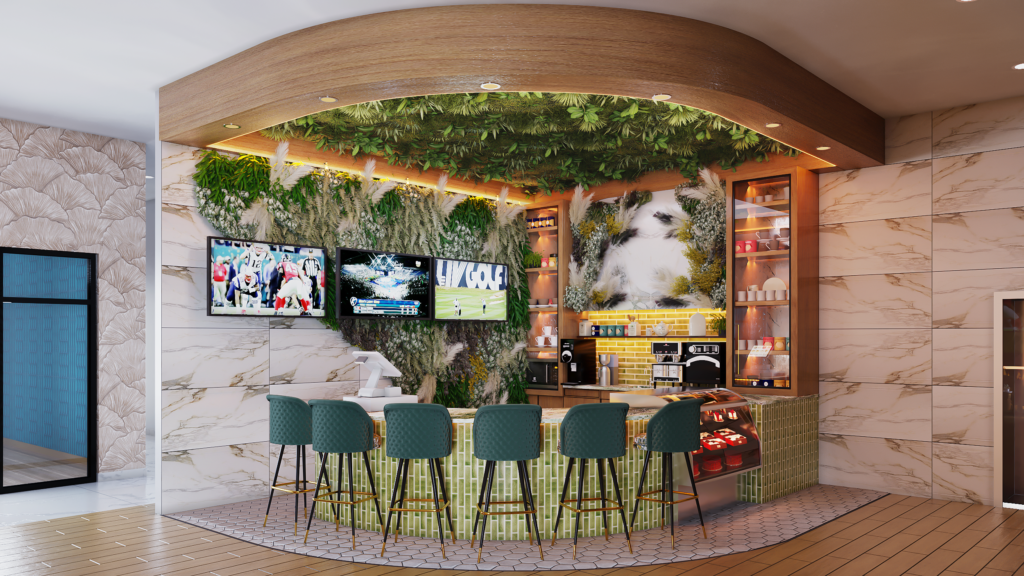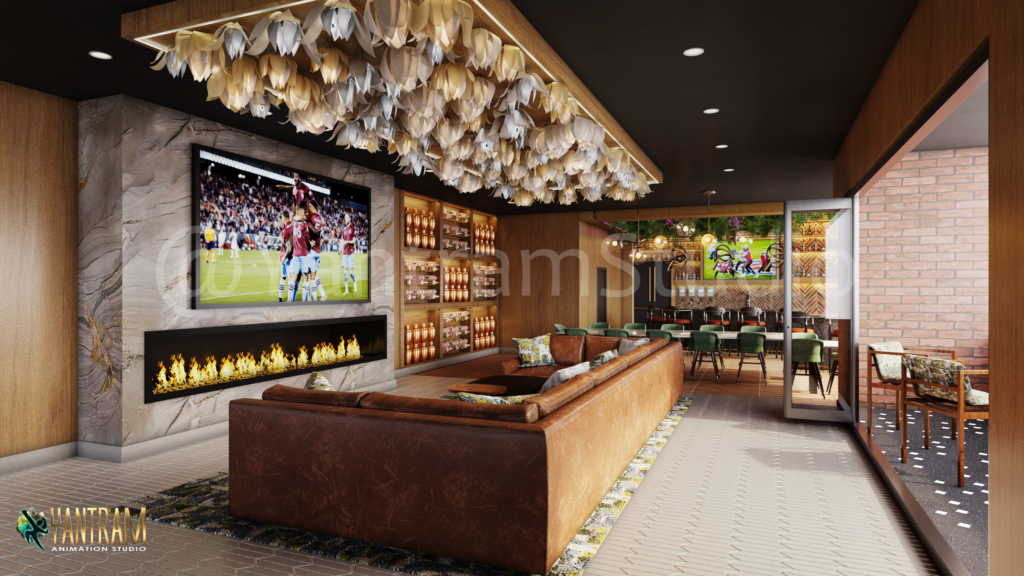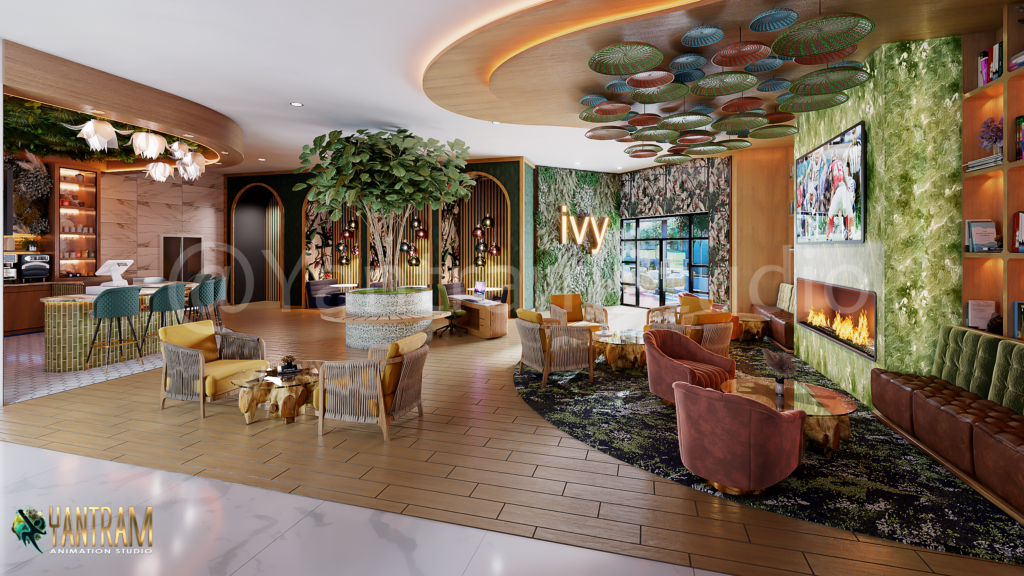 3d walkthrough
Step into the epitome of French elegance with our 3D digital walkthrough of a stunning 2023 exterior and interior cocktail haven in the heart of Paris. Immerse yourself in the timeless charm of this exquisite space, where every detail exudes sophistication and refinement. From the meticulously designed facade to the opulent interiors, this is a sanctuary for those who appreciate the finer things in life.